My Role
I led the UX and UI design of Bookevents across iOS, Android, Desktop and Web since the outset of the project in March 2017.
Up until January 2018, I led efforts to evolve the service and address customer pain‐points related to the browse and discovery experience.
Customer Insights & Ideation
I partnered with a project manager and system analyser to uncover insights and translate concepts into features that address customer behaviours and motivations.
Experience Strategy & Vision
I created frameworks and prototypes to share the vision, design principles and content strategy. This helped to evangelise ideas, gain alignment and drive decision making.
Planning & Scope Definition
I defined the product with my project manager. I evangelised customer goals and balanced business goals. I prioritised and negotiated features for launch and beyond.
Design Execution & Validation
I designed down on iOS and desktop. I executed journeys, wireframes, prototypes and design specs.
---
The challenge
Create Deep Relationships with Customers
How to make customers use our app for the long term?
Currently (2016), all the websites in the field of the event stop at the first stage, ie a providers index as well as some articles concerning the organization of an event. But none of them offers a tool to help managing and organizing events. On the other hand, once the wedding is organized, what could bring back the customer so that he continues to use our platform ?
The Approach
Complete Friendly Tool for Events Management
We realized how many people pay on event organizer services because lack of time for a part of them and even because their location all over the world. Some of them only because they don't know from where starting !
---
The Discovery
Customer Insights
We conducted customer and market research to drive our planning phase. These are the key insights that defined the launch version of the product:
I started by interviewing an event organizer friend for some tips as well as people who have already organized events or not.
Then, focused on the user journey map that I established, I ordered a list of the main steps to organizing an event (We focused mainly on weddings, which are more important events to organize and manage).
Detailed Design
Communicating Design
My process involved sketching and white‐boarding concepts and flows with my PM partner and then translating these directly into hi‐fidelity design comps. Since I was working with many existing design patterns, it was relatively easy to move straight into hi‐fidelity designs.
In the early stages I focussed only on representing the highest risk areas of the design.
Prototyping was the most effective way to gain meaningful feedback from the team, consensus from stakeholders and approval from senior leadership.
6UP to 1 UP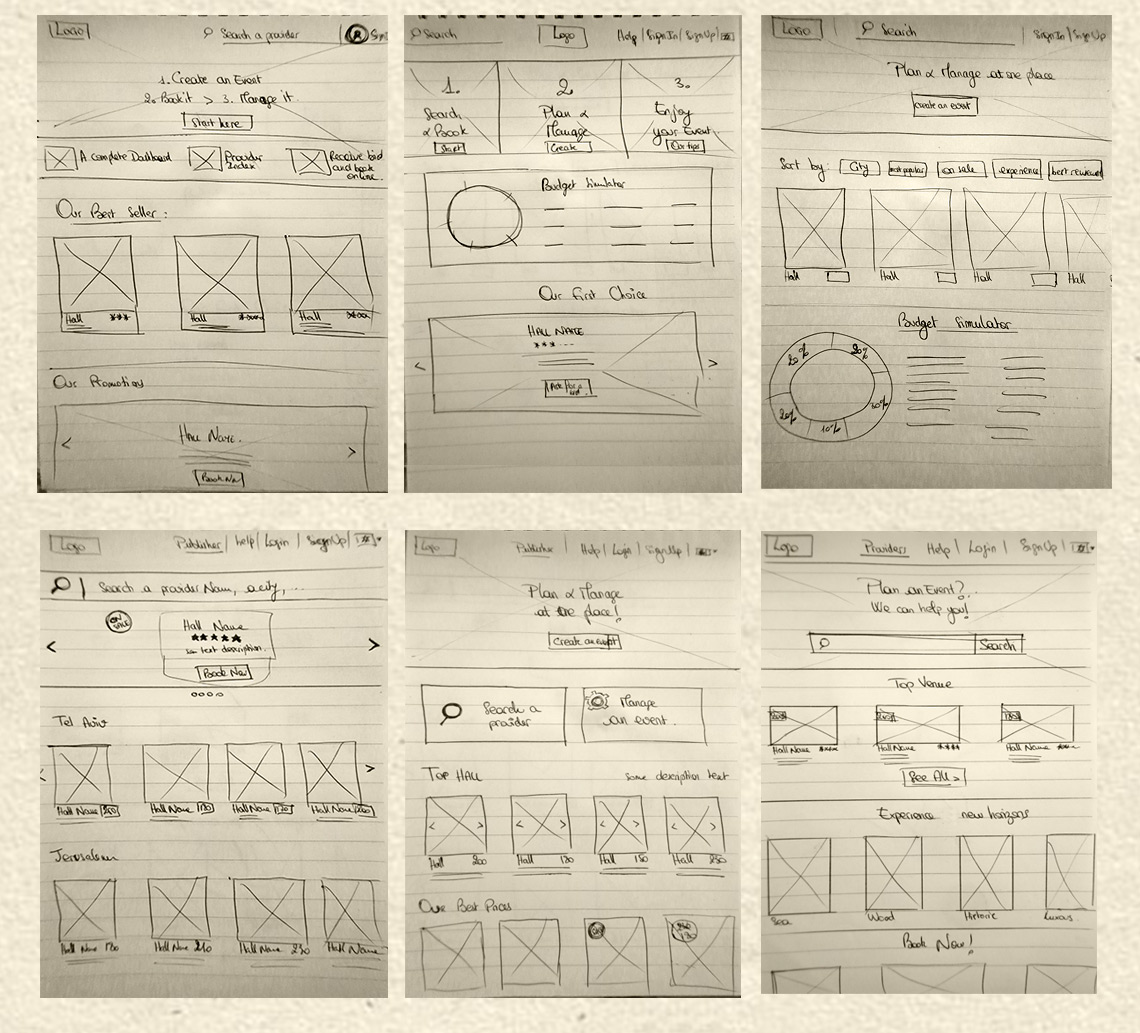 ---
Red Guideline